Biomass Solutions
Wood Fuel Heating
Biomass heating and hot water systems can use wood logs, wood chippings or wood pellets to provide the heat required for space heating and hot water. A typical installation would cover 1 or 2 dwellings, a large shed or barn, toilet and shower facilities and offices / administration buildings. The installation would replace current oil fired boiler systems.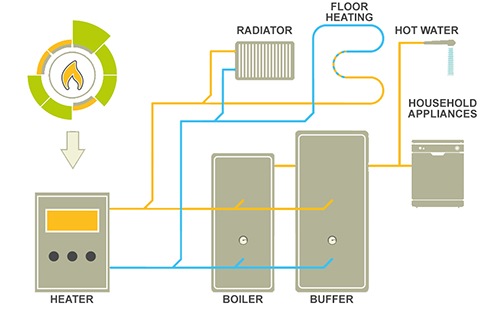 Installation
provision of a 70 kWh boiler
hopper and feed system
trenching and pipe work
pumps and motors
storage systems
cost of arrangements
RHI is payable over 20 years. Systems can be automatically fed with fuel.
Planning Permission
Internal installations do not require planning permission for biomass installations. If external work be required for the installation of a flue, you would normally be permitted development if the conditions outlined below are met. If you live in a listed building, you will need to contact the relevant authority for internal or external fixtures in order to comply with the listing requirements of the building.
Install flue on the rear or side elevation of the building
Flue must be at a maximum of 1m above the highest part of the roof
In areas of conservation / World Heritage sites the flue should not be fitted where it would be visible from a highway
External fuel and equipment stores have the same rules applied as for other extensions and garden outbuildings
Commercial and Industrial Industrial
Design, Supply and Install
Site Management
Project Management
Commercial RHI Applications
Maintenance
Biomass boilers and stoves require little maintenance; an annual check and occasional removal of ash in order to prevent ash build up which would cause boiler failure. Ash quantities are generally less than 1% of the fuel volume.
Wood Burning Stove or Boiler: Empty the ash bin weekly, the chimney and flue pipe must also be swept regularly.
Log Fire: Remove ash before every use.
Manual Boiler: Periodic shutdown for cleaning required.
Automatic Self-Cleaning Boilers: Automatically collects ash from the heat exchanger tubes and combustion grate, occasional ash removal.
Automatic Ash Compression Boiler: Reduces the number of times the ash bin needs emptying.