Energy Use Monitoring
Monitoring Your Energy Consumption
Energy saving is a #1 priority from both a financial and environmental perspective. Having the data available to us will help us to understand our energy use in our home and working environment, this can help change the way we live and work.
To help you follow what power you use, an email or SMS alert can be generated in order to help you manage your energy consumption. Your energy use can be monitored in real-time to help you change behaviours to result in saving energy.
The alerts help with cost management by identifying when an individual appliance uses more than the defined amount of power or is running at abnormal times. This alert will allow for immediate control of your appliances by switching off or altering programmes to eradicate the overuse or unusual use at that time.
With an increase or decrease in use clearly visible online, Consumers or Business owners can react immediately to what levels of spend or consumption they are viewing.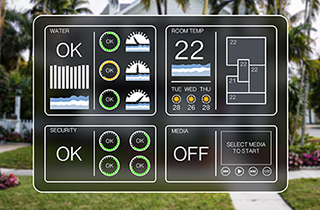 Accessing Your Energy Logs
A detailed overview is available from your personal web portal to view current, historical, estimated energy usage and costs. Available across a variety of platforms the web portal provides user friendly, up to the minute energy and utility data that is translated through charts, to show daily, weekly, monthly and historical consumption.