Commercial Solar Panels
Renewable Business Solutions
We provide bespoke solutions for various commercial needs, on roof systems, Solar farms, landowners looking to lease for investment, to housing associations building new properties or looking to retrofit solar panel installations. We will work closely with Distribution Network Operators (DNO), planning departments and other involved parties to ensure that the optimal solution is delivered. We are able to fund all sizes from small to large installations through our funding partners and can deliver systems free of charge that attract the lowest power purchase agreements in the market.
Going Ahead with Solar PV
If you are interested in having solar PV on your roof, then there are 3 options for you to consider:
Buy an entire system
Install free solar at no cost and pay a PPA
Buy a system through appropriate funding avenues
A typical installation would be up to 250kWh, mounted upon a roof. PV can be roof or ground mounted and supplied to a size to suit clients' requirements. We guarantee our workmanship for 10 years from the date of installation, this warranty will be transferable to any new legal owner of the property if it transfers during the warranty period.
Purchasing Solar Panels
Buying a system for a business is beneficial and represents an investment that not only will reduce costs, but will also show the business is socially responsible in a highly visible way, allowing positive messages concerning its product or service to be delivered without the need for costly advertising.
Systems can earn considerable levels of income and when combined with the savings delivers can make returns on the necessary investment in under 5 years (depending upon actual levels of energy consumed).
For more information, Contact Us.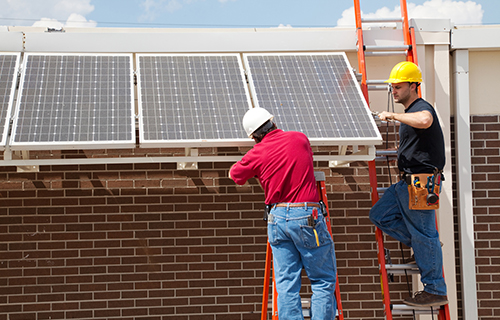 Installation
provision of panels
inverters
mounting system
wiring and materials
labour
DNO Consultation
grid connection
arrangement costs
Get paid by the UK government through the Feed-in Tariffs, bringing sustainability and safeguarding the future where energy costs are on the rise.
Free Consultation & Site Evaluation
Prior to installation it may be necessary for an independent, fully qualified structural engineer to assess the condition of your roof to check its capability to support the proposed installation. We carry out this survey as a matter of course at no extra cost. With all our commercial solar panel projects we personalise our service to deliver exactly what you need from planning and system design through to installation and ongoing system monitoring and maintenance. For larger scale solar PV installations, we have our own drone and thermal camera, flown by a fully qualified and licensed pilot, who is able to identify problems with panels before they start to affect the installation.
Maintenance
If you buy, you will need to maintain and insure the system. We have a number of services that are suitable and will meet your needs. We also offer these services to existing system owners who previously had not considered the necessary maintenance requirements.
If you have your panels installed for free, these costs are covered within the agreement. If something goes wrong with the panels, the system is monitored remotely and any problems will be rectified as soon as possible.
Grid Connected | Off Grid | Solar Farm Solutions
Project management
G59 services:
a. survey
b. design – electrical and roof to optimise efficiency
DNO application
d. Witness test / system commissionin
FIT / ROOFIT applications
Structural surveys and calculations
Planning permission compliance
Complete install (inc. scaffolding)
Full product supply
Battery storage solutions
Solar hot water diversion systems – supply and install
Commissioning and certification
Site project management
Full HSE requirement services for installation – RAMS
Monitoring and maintenance services
Drone thermography reports
Funding solutions
Turnkey solutions