Photovoltaics
We specialise in the provision of free installations of electricity generating PV systems; individuals and businesses can reduce costs and benefit from long-term savings through generating green energy. Our management team install solar PV systems domestically and commercially across the UK.
This method requires no investment from you and will save you money on electricity bills over and beyond the 20 year feed-in tariff payment period.
As an accredited MCS installer, Viridian UK provide a complete turn-key service; from initial enquiry through to design, DNO application (commercial only), installation, monitoring and ongoing maintenance. Recent advances in solar technologies, coupled with current Government-backed financial incentives, make Solar PV Systems one of the best protections against energy-price increases.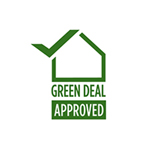 Planning Permission
In most cases, the installation of PV on a domestic or commercial property's roof is considered permitted development and does not require planning permission to be issued.